ROVworld.com Forums
I have for sale a VideoRay Pro 4 with commercial dive configuration for sale. Comes with 3 tethers, 2 at 1000'' and one at 200 plus feet. This ROV is rated to 1000'' Comes with 3 shipping cases. 2 Umbilicales do not have shipping cases.
ROV has about 160 hours logged. Great condition! Check it out! Paid 60K
For Sale $25,000.
https://www.facebook.com/marketplace/item/310475889674987
Good day,

Is this unit still for sale? If so please get in touch.

jared@hydroflowsubsea.com
whatsapp/phone +31643709899

Thanks
Good day Davide,

Please get in touch.
jared@hydroflowsubsea.com
Whatsapp/phone +31643709899
[quote:36b2420b8b=\"Bazinga\"]Hi Jaso,
In response to your question:
how does that work, how can they be assessed if their company just fills out all the forms for them.
How can that assessment company actually condone that.
Its just a take the money and you lot are ok.
I think that is the whole point, they shouldnt be able to do it. Why agencies and clients give MTCS certifications credit is a mystery.
i totally agree how is that even legal and that leads to incompetency, i worked a couple of jobs ago where the other shift just could not do their job, i was woken up whilst off shift to fix things. I dont mind helping out at all but for menial tech work, i have to get up and had to do all their paper work to, and we all know how much of that has to be done these days.
It just made my work load twice as hard.
Im not a snitch or tell tale but i casually asked my OIM if the other guys had Certs in a round about way, and sure enough they both had MTSC certs and they were not qualified to do their jobs properly not at the ranks that their Certs said they were anyway.
It seems if you pay they just had them out.
im not happy
Mr bazinga
so what you are saying is that the MTSC Cert is just a scam, that us the participants do all the work for something we dont really need.(and pay for)
Our log book seaman''s book CV and Qualifications in Electronics or mechanics or said field , a reference from last job and an interview done by phone or email should really be enough. Why do we have to be approved by someone who has never met us and has never seen us work and knows nothing about us at all.
Like you say it could all be faked to obtain this Cert, that is a new thing as i am starting to recall
I got my first job offshore by sending in my qualifications and a lengthy interview over the phone. Other jobs later in my career where done the same or i was recommended by someone i had worked with who had been working a lot longer than me and regonnised my skill set
Why has this all changed?
Why do we have to have this assessment Cert anyway which expires ?
My electrical qualifications do not expire, my BA does not expire !
After so long working in the industry you can tell if someone is any good or not with in a day or so.
Is this not how most other companies acquire staff onshore? What makes us so different all of a sudden?
I see no problem with in house assessment done at the worksite by the company you work for. To see if you need a pay rise(move up a rank) or if you are having trouble with any parts of the job, which they intern can help you with. I.e not everyone knows how to write procedures or rewrite them for a work scope that has not been done before. Things change at sea all the time.
I seem to be constantly paying for useless pieces of paper that i don''t really need as i see my wages go down.
its wrong that we are constantly being made to pay for the luxury of doing our jobs.
All ok good luck on getting a work reference I dont see any problems that a previous Superintendent , Supervisor or Project manager should be able to write you out a reference letter with full contact details . I have done many over the years for people that have worked under me and from time to time I do get companys or agencys contacting me to confirm the reference .

Cheers
Hello all,
My name is Bryan, I own a small engineering and marine company in the UK
I have personally been a UK Agent for J W Fishers Equipment including ROV''''s since
1992. www.alternativedesigns.org.uk

I can offer Direct purchase discounts for those in the UK requiring ROV''''s from J W Fishers
at Discount Direct USA Prices. www.jwfishers.com

I can also offer commercial Lease Purchase Options ( Non Discounted ) via a Third
Party Lender, subject to qualifying, to terms and conditions.

Please PM me with any interest.

Kindest regards

Bryan
Hi all ,
I have a brand new Open ROV Trident for sale . ( Updated model with upgraded motors).
It has been received few days ago from USA and it''s still into its box , never opened .
The item is located in Italy and EU VAT / custom duties have been already paid.
The current sale price from the Open ROV website amounts to around 1750 Euro ( VAT and shipment included )
my sale price amounts to 1300 euro + shipment ( shipment will be cheap inside the EU).
Contact me for any additional info.
PM or send an email to davidepaglie@gmail.com.
Tech specification below.
Cheers.
Davide
-------------------------------------------------
SIZE & WEIGHT
External dimensions:
410mm x 205mm x 86mm
(16.1in x 8.1in x 3.4in)
Weight:
3.4kg (7.5lbs) ballasted for freshwater
3.5kg (7.7lbs) ballasted for seawater
PERFORMANCE
Depth Rating:
100m (328ft)
Maximum Speed:
2m/s (3.9kts)
BATTERY & POWER
Charge Time:
1.5hr 20% to 80%, 3hr 0% to 100%
Run Time:
3-4 hours, normal operation
(active piloting, lights on)
Charger Requirement:
120VAC to 240VAC
(charger included)
CAMERA SPECIFICATION
Resolution:
1080p @ 30fps recorded
720p @ 30fps live
Latency:
Very low ( < 120ms)
Features:
Excellent color rendition
High dynamic range
Optimized for low-light underwater
Wide angle field-of-view
Scratch-proof sapphire window
LIGHTS
Details:
360lmns @ 4000K
SENSORS
Navigation:
9-axis IMU with compass/tilt displayed
Depth/Temperature:
1cm-resolution depth sensor
Temperature calibration and display
Manufacturer: VideoRay
Model: NTSC Scout
120/240 VAC
50-60 Hz
250 feet
With tether and carry case

Located in Canada, looking for offer.

cjbrown29@comcast.net
Text 425-518-0539
The Phantom® T5 Defender is one of the next generation of proven, reliable underwater robotics pioneered by Deep Ocean Engineering in its manufacture of remotely operated vehicles (ROVs), built in the USA for nearly four decades. The design of its four vectored horizontal and one vertical Tecnadyne® thrusters provides significant control and propulsion in current to maneuver efficiently in all directions. It is equipped with an electrically-initiated, patent-pending Disrupter used to break up underwater obstructions.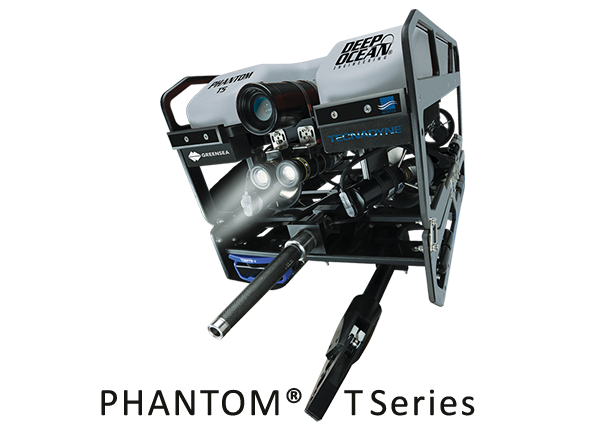 The Phantom® T5 Defender is one of the next generation of proven, reliable underwater robotics pioneered by Deep Ocean Engineering in its manufacture of remotely operated vehicles (ROV), built in the USA for nearly four decades.
Salient Features

Powerful maneuverability and lift
Incorporates an open architecture
Integrates with a wide variety of sensors
Hand-built on a rugged, resilient, non-corroding polypropylene chassis
Chassis accommodates heavier payloads
One-year manufacturer's warranty