Following successful offshore trials, the AUV
Geosub
is now being prepared and marketed for commercial operation, writes Martin Day, chief surveyor for Subsea 7.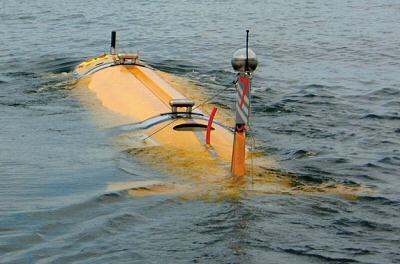 Subsea 7 has successfully completed a number of offshore trials of its
Geosub
AUV. Various trials were undertaken during 2003 using the survey vessel MS
Jean Charcot
at Scapa Flow in the Orkney islands and to the east of the Isle of Skye on the west coast of Scotland and to water depths of 200 metres. In addition,
Geosub
has successfully carried out survey activities for external clients including the British Ministry of Defence.
The AUV is a tetherless subsea vehicle that is programmed to undertake subsea survey missions and acquire high-resolution survey data in water depths to 3000 metres. Initially, applications for the AUV will be focussed upon geophysical survey data acquisition in association with site surveys, field development surveys, pipeline and cable route surveys. Subsequently, Subsea 7 expects that the fruits of ongoing research and development will enable
Geosub
to undertake pipeline tracking and inspection, with the longer-term goal of using its AUV experience and technology to develop even more intelligent vehicles capable of performing subsea construction and intervention tasks.
Exclusive

The basis of Subsea 7's
Geosub
vehicle is a 10-year licence agreement with the UK's Southampton Oceanographic Centre for total access to Autosub AUV technology, together with its exclusive use in the worldwide oil, gas and subsea cable markets. Autosub is a well-established research AUV with a strong reputation.
Initially, Halliburton Subsea undertook a transfer of Autosub technology in 2001 with the goal of developing the
Geosub
vehicle through integration of specific systems to meet the high operational specifications demanded by the offshore commercial survey industry. The vehicle has been developed and constructed at Subsea 7's Greenwell Road base in Aberdeen, UK, and was completed in December 2002. An extensive phase of testing has been undertaken onshore and inshore, culminating in the recent offshore trials.
The key advantage of an AUV is its ability to efficiently acquire high-resolution precisely positioned survey data. Traditionally, offshore geophysical survey is undertaken using survey sensors mounted either directly on the survey vessel itself or on a towfish platform towed behind a survey vessel. As oil and gas field developments around the world move further into deeper waters, the quality of survey data that can be acquired using this approach reduces significantly.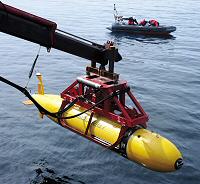 The resolution and density of data acquired from vessel mounted sensors decreases directly with increasing depth. This can be overcome by mounting the sensors on a towfish, which is towed from the survey vessel close to the seabed. However, with typical layback to water depth ratios of 3.5:1, in two-kilometre water depth the towfish would be approximately seven kilometres behind the vessel! This effectively means that it cannot be tracked accurately (or at all) using the vessel's own ultra-short baseline (USBL) acoustic positioning system.
Additionally it is extremely difficult and cumbersome to navigate the towfish close to the required survey line. Due to the amount of cable deployed, it can take several hours to turn the towfish around for the next survey line in the opposite direction.
Using precise onboard positioning capability, the AUV navigates close to the seabed at normal survey speeds of approximately three to four knots, and exhibits a turning circle of less than 40 metres. This approach leads to significant time efficiencies over traditional techniques, including the time taken to recharge the AUV batteries, which takes approximately five hours.
Potential
The second principle advantage of the AUV approach to geophysical survey is that it has the potential to allow the mothership vessel to undertake other tasks while the AUV is deployed. In the geophysical survey theatre of operations, this is expected initially to be seabed sampling, coring or geotechnical operations.
Geosub
has therefore been designed and developed to address increasingly demanding specifications for geophysical survey data acquisition in ever deeper waters, where high-resolution data combined with precise positioning is of primary importance. Survey missions in excess of 30 hours will be undertaken, powered by an array of rechargeable lithium ion batteries.
The vehicle is launched from a mothership, and following navigation systems alignment on the surface, dives through the water column, levelling out typically within 30 to 40 metres of the seabed. The AUV then closely follows a pre-programmed survey data acquisition mission described by a number of way-points, each with its own associated position, depth and sensor configuration requirements.
Upon completion of the mission, the vehicle returns to the surface to a pre-defined location and is recovered to the mothership where the survey data is downloaded and the vehicle batteries re-charged.
The primary data acquisition systems onboard
Geosub
are multibeam bathymetry, sidescan sonar and sub-bottom profiler. The vehicle navigates using a state of the art inertial navigation system aided by highly accurate fibre-optic gyros, surface GPS, an integrated Doppler velocity log, altimeter and depth sensor, together with periodic USBL position updates transmitted from the vessel. This approach allows high accuracy navigation to be maintained throughout the mission.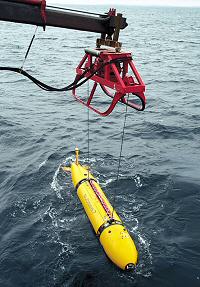 Absolute

Results from recent trials show that autonomous position drifts of less than five-metres-per-hour are readily achievable and that drift beyond project specification can be bounded by absolute position updates transmitted from the surface. A forward looking obstacle avoidance sonar is used to detect and avoid potential hazards to the mission and a terrain following altimeter is used to maintain the optimal altitude and attitude of the vehicle as it traverses seabed slopes.
Following the successful offshore trials,
Geosub
is now being prepared and marketed for commercial operation, specifically targeted to the deepwater regions offshore West Africa, Brazil and the Gulf of Mexico. To assist in accessing these markets, Subsea 7 has signed a non-exclusive cooperation agreement with Gardline Surveys, UK, to jointly promote and operate the AUV. The two companies will combine resources and capability to provide a comprehensive service to clients requiring geophysical and geotechnical site and route investigations.
Volume 8, Issue 3
May/June 2004
~~~~~~~~~~~~~~~~~~~~~~~~~
Underwater Contractor International

~~~~~~~~~~~~~~~~~~~~~~~~~