Eclipse Energy UK plc has announced that it has been granted consent to enlarge its previously consented Ormonde Offshore Wind Farm and to generate and export electricity from the adjacent Ormonde Gas Fields development by the UK Government.

This completes the series of principal permissions necessary to construct the world's first co-development of offshore gas and wind energy, in the East Irish Sea.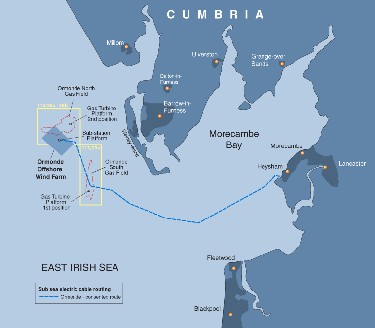 The consent permits Ormonde Energy Limited to build a 150MW wind farm comprising of 30 turbines, which will be sited 9.5 km from Walney Island. This consent replaces the previous one granted in February 2007. When constructed Ormonde will have the ability to provide up to 150MW of electricity from its dedicated offshore wind farm of 30 5MW turbines and during periods of light wind the three gas turbines fuelled from two adjacent natural gas fields will generate a total of 90MW of electricity. The project anticipates first energy in 2011.
The new Energy Minister
Lord Truscott
added that "
The Ormonde scheme is unusual in that it will combine wind and gas power to produce continuous electricity for the region. It is an exciting and innovative technological first that will make a contribution to our renewable energy aims.
".
Now that consent has been obtained
Eclipse
predict that first energy will be generated in 2009 with offshore construction beginning in 2008.