The US minesweeper "USS Swift" and a Norwegian coast guard vessel is searching for a missing unmanned US minisubmarine which is missing off the south coast of Norway.
The sub was being used in the NATO exercise "Blue Game", NRK reports.

"USS Swift" has the operative resposibility for the sub, which may be programmed to chart the seabed and search for mines.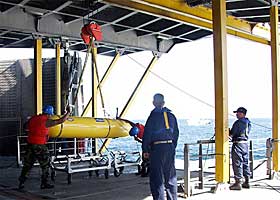 Especially trained dolphins are also being used in the search.
The US Navy had their last contact with the minisub last Thursday.

The missing sub which is 3.5 metres long, and weighs 2 tons, is called a Battlespace Preparation Autonomous Underwater Vehicle (BPAUV), Dagbladet writes.

The US Navy had hoped to test the equipment under difficult conditions off the Norwegian coast during the exercise.


5 May 2004

~~~~~~~~~~~~
The Norway Post
~~~~~~~~~~~~