DONG Takes Cracked Siri Platform Off Stream
Posted on 17.09.2009 - 12:38 EDT in INSPECTION NEWS (Subsea) by ginamc
DONG Energy has shut in its Danish Siri field and two associated fields, reports Dow Jones. According to the operator, cracks were identified in part of the Siri production platform.

During routine maintenance, DONG discovered the cracks in a small tank attached to the Siri platform's 50,000 cubic-meter subsea oil storage tank, the report noted.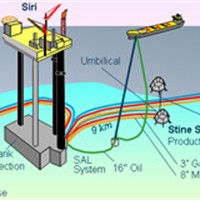 "So far we are just looking into the nature of the problem," DONG spokesman Ulrik Frohlke told Dow Jones. "We have one yearly routine inspection of subsea installations," he continued. "Last year's showed nothing, but now we see these cracks."

Dow Jones also reported that no estimate was given for how long the Siri field's production will be halted. Siri pumped 1.91 million barrels of oil equivalent in 2008.

DONG operates the Siri field, which is situated on the Danish continental shelf, with a 50% stake. Norway's Noreco retains a 20% stake in Siri, while Talisman holds the remaining 30% interest.